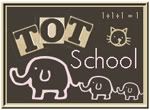 This is my first official post for Sarah's TOT School!
Sarah is now 18 months and I want to be more diligent about including her in our everyday learning and taking some time to teach her some simple skills, instead of always sending her away to her toys.
This week I pulled out our Leapfrog Alphabet Magnets and taught her how to inset and push the letters to make the sounds.
She enjoyed this very much and danced to the abc song for a very long time.
Later I laid these "tools" on our kitchen floor at just let her explore.
She right away started to transfer the pom-poms into the tall cups (courtesy of McDonald's!).
After about 15 minutes of playing this way I pulled out an ice cream scooper and showed her how to scoop the balls into the cups and after a few tries....
....an instant hit activity for her.
Of course, her big buddies couldn't help to join the fun. :)
I also pulled out her Lauri shape sorter. I noticed the she likes this activity but all the little pieces end up all round the floor so I gave her an empty container to put them back when she was done. This was a fun way to teach her to put things away when done but also it made the activity last longer.