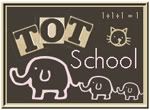 It's time for more Tot School fun with my little princess!
This week Sarah got her first fun with stickers. I found these cute sparkly smiley stickers at Office Max. At first I showed her how to peel and paste them. She is still not quite ready to peel it off completely on her own but was very patient in trying and letting me help her as well.
This kept her busy for a while and she smiled and would point at the smileys afterwards.

Since the ice cream scooper was a big hit last week, I had her try scooping animal counting beads into a tin can. She LOVED the noise the beads made inside the can.
She also enjoyed dumping the beads back into the bowl too.
I love that we are using every day items as learning tools. I knew those Slim Fast cans were going to be good for something one day (since it didn't help my weight lost!).
Can't wait to try more new activities this week and blog about it. Till then, be sure to check more Tot School posts
here
.